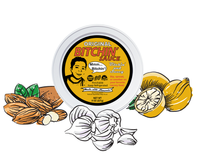 The Most Bitchin' Ingredients
At Bitchin' HQ, we pride ourselves on using the cleanest and freshest ingredients in all of our Bitchin' goodies. All of our products are Gluten-Free, Vegan, Project Non-GMO Verified, and Kosher. Our dedication to quality has resulted in the most Bitchin' dips on the market and we are positive you'll agree.
Testimonials
My friend told me I had to buy this, so I did. Now when I wake up every morning, while quarantining at home with nothing to do, I think, "Hey, it's another day I get to eat Bitchin' Sauce." So thank you, because it's so good.

Michael B.
I have been vegan for almost 4 years and I was excited when I finally saw the big tub of the Chipotle sauce stocked at our Costco. We have been eating it EVERYDAY since last Sunday. Our tub is almost out and we are definitely going to buy more. The ingredients are mainly my favorite thing about the sauce besides the taste. We are in love.

Dhale P.
My fellow almond loves. I can't begin to tell you how much I LOVE LOVE LOVE your products. My favorites are the Original and Chipotle. You are creating magic for my tastebuds. 

Bryan G
Your product has helped me greatly in losing 35lbs and keeping it off, making everything I put it on so delicious. I love that it's SO tasty and low carb. My daughter loves it because it's vegan. We go through at least 2 large containers a week! I have also turned so many friends on to it and I'm so glad that I can spread the love of a product from right next door to my hometown. 

Melissa K.
We cannot thank you enough for this Bitchin' Sauce. You have completely changed our life with this delicious and healthy dip. We are a family of family and go through at least 6 cartons of 8 oz. HOT Bitchin' Sauce per week. The absolute BEST! 

Rochelle B.
Hey, I just read the back story on how your product line got started and all I can say is "Awesome!" I am vegan and I love what you came up with. I have two sons - one is 15 and one is 12. I hope your story inspires him to come up with something awesome too! Thanks for your great products.

Todd B.
I just want to say I am obsessed with your Bitchin' Chipotle sauce. I bought it at Costco two weeks ago and now have purchased 7 more containers... FOR MYSELF I am obsessed, which is an under statement. 

Sigrid H.
I just wanted to tell you how in LOVE I am with your product! I honestly do not think I could live a day on this earth without it! 

Erin H.
I just wanted to give my praises to you guys for creating such a delicious and impressive product. I have been telling anyone who will listen, how amazing it is and worth trying. Keep up the good work, and I'm excited to see the full time product hitting Costco stores. 

Kaymen S.